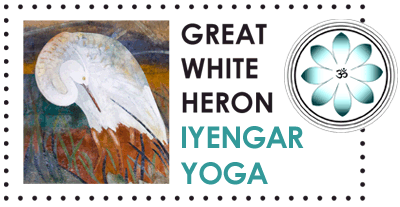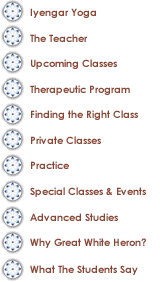 Our Therapeutic Program
This program is for people with diseases, injuries, and complaints that cannot be effectively handled in a general class or a guided practice. No prior yoga experience is necessary. In other words, experienced students as well as to those who have never taken an Iyengar yoga class may participate. If you're interested in exploring the possibility of using Iyengar yoga to address a specific challenge, the first step is to contact Sharon for a phone consultation, 504-331-0177. There's no charge for the phone meeting, and, if you decide to proceed, Sharon will schedule a private class with you.

Background
With its emphasis on alignment and staying present to what's happening in the body, there's no question that an Iyengar yoga class can be therapeutic. Again and again, students tell us that neck, shoulder, back, or knee pain has disappeared since they began taking classes or that they're sleeping better or feel less anxious. That said, participating in a general class or guided practice is not always the most effective way to work on a specific challenge whether it's low back pain, high blood pressure, or depression.

When B.K.S. Iyengar departed this lifetime on August 20, 2014, he left a treasure chest of teachings and instructions for his students to practice attentively and find out for themselves. In his 80 years of practice, he had developed ways to effectively address many of the health challenges individuals face over a lifetime. The first step in working with such challenges is for a teacher to design a sequence of poses specific to the particular situation. These sequences are most effectively practiced one on one with the teacher's ongoing input or in a therapeutic class where the teacher is available to give guidance to a small group of students as they each practice their own special sequences.

In this way, Iyengar students around the globe have benefited from using yoga as a complementary therapy for a long time. And, in recent years, a number of peer reviewed medical studies have demonstrated the efficacy of Iyengar yoga in treating a variety of conditions including asthma, rheumatoid arthritis, carpal tunnel, symptoms of chemotherapy, high blood pressure, chronic neck and back pain, anxiety, depression, and chemical dependency.* Other sequences have successfully addressed chronic fatigue, diabetes, Parkinson's, and multiple sclerosis.

Using Iyengar yoga as a complementary therapy works. But, to effect change requires a real commitment on the part of both student and teacher. And, practicing the sequence regularly on your own makes change possible.

*references available upon request

Private Classes
In order to assess each person's needs and develop an individualized sequence to address those needs, Sharon will work with each student privately for a minimum of three classes, or for as long as the student wishes to work in this manner and Sharon feels it is beneficial. The length of each private will vary depending on the individual situation. Generally, Sharon recommends allowing 2 hrs. for each of the first three classes; thereafter, often 1.5-2hrs. classes work best. Pricing will be as follows and will be discounted for full time students-

1 hr. $90
3 hrs. $240
6 hrs. $425
9hrs. $600

Sharon is committed to working with anyone who has a sincere desire to use Iyengar yoga to work with a special condition. If money is an issue, please make Sharon aware of your situation, and she will adjust the pricing to meet your financial situation.

Therapeutic Classes/Guided Practice
Once a student is familiar enough with their individual sequence to practice it on their own, or with a friend or relative's help, they may join a therapeutic class. Each therapeutic class will be limited to no more than four participants, and Sharon will be available to offer guidance and modify set-ups as students practice on their own. Classes will be scheduled to suit participating students' schedules.

The cost is $40 per class for the session, or balance of a session, and $50 for drop-in's. It's recommended that once you begin coming to a therapeutic class that you make it a weekly commitment.

Open Practices
An open practice is a period of time when students are welcome to practice on their own at the center. Sharon will not be present, but students taking private classes or registered for a therapeutic or general class may attend these open practices at no cost. Open practice times will be scheduled several weeks into each session to suit registered participants' schedules.