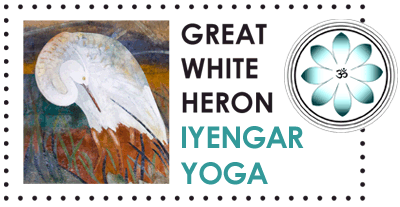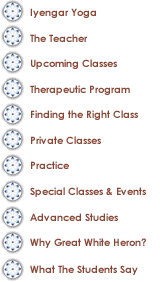 Private classes can be especially helpful if you have an injury or chronic pain and want to refine your understanding of how to work with it. Private classes are also called for if there is a need to develop a specialized sequence for a particular condition like MS, depression, and many other situations. Private classes can also be an especially useful way to develop or refine an existing home practice.

Although Sharon resisted working with students privately for many years, she now sees the real benefit of doing so. She's noticed over the past few years that the students she works with privately are more likely to develop a home practice or participate in open practices at the center. And, by doing so, these students are more likely to effect the changes they seek. While this came as a surprise to Sharon, colleagues have confirmed that they have experienced the same phenomenon.

Pricing is as follows and will be discounted for fulltime students -

1 hr. $90
3 hrs. $240
6 hrs. $425
9 hrs. $600

The length of each private will vary depending on the individual situation. Generally, Sharon recommends allowing 2 hrs. for each of the first three classes; thereafter, often, 1.5-2hr. classes work best.

Sharon is committed to work with anyone who has a sincere desire to use Iyengar yoga to address a particular challenge. If money is an issue, please make Sharon aware of your situation, and she will adjust the pricing to meet your financial situation.

It is also possible to schedule a private class for a small group of students if they share a common interest or concern. For more information, email Sharon or, call 504-331-0177.