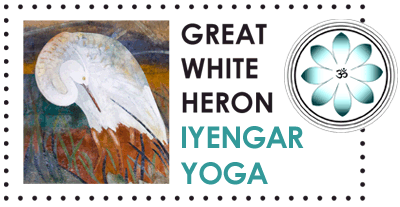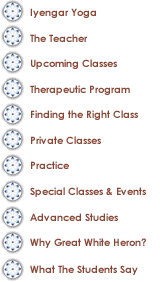 "While the Iyengar tradition is a very methodical approach, it is not intended to be rigid. There is tremendous freedom within its structure. As a teacher, I want students to understand not only the method and its structure but also the freedom and the creativity that is inherent in this rich tradition." Sharon Conroy

The Art of Practicing and Teaching
in the Iyengar Tradition:
An Apprenticeship Program

This is an ongoing program for serious practitioners and aspiring teachers who want to deepen their practice and understanding of the Iyengar tradition and/or prepare for the Introductory I and Introductory II assessments.

Sharon started training teachers over 22 years ago when her mentor Patricia Walden recommended that she apprentice some of her enthusiastic students who had expressed an interest in teaching. With both Patricia and John Schumacher's encouragement, Sharon began a 3 year apprenticeship program for local students who wanted to work towards Intro I certification and eventually become Iyengar certified teachers. Then, in 2008, Sharon began to conduct group teacher trainings for both local and non-resident students interested in working towards the Intro I & II certifications as well as Jr. Intermediate I certification. After conducting group teacher trainings for 6 years, Sharon decided that an apprenticeship program is better suited to helping each student deepen their own practice and become the best Iyengar teacher they can be. And, in 2015, she stopped doing group teacher training and began to again offer an apprenticeship program. Each apprenticeship is tailored to the student's specific interests and needs.

If you are interested in receiving more information about the apprenticeship program, please feel welcome to call Sharon at 504-331-0177 and leave a voice mail message or email Sharon@greatwhiteheron.net.